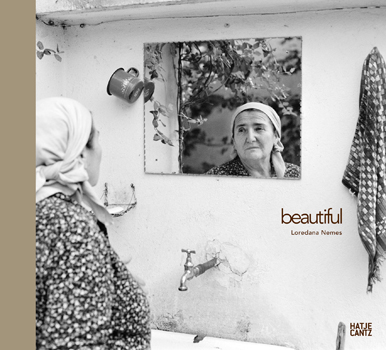 beautiful
2013
From the perspective of her childhood, the photographs by Loredana Nemes tell of the beauty of her hometown and a life rooted in tradition: in one of the images in the beautiful series, bare feet and legs and a small tricycle hold the promise of an endless summer. Children play in the streets; adults also spend a great deal of time outdoors, gossiping with neighbors, encountering each other and the apparently untouched natural hinterland with a sense of infinite leisure. Nemes, who had to leave her beloved Sibiu at the age of fourteen, juxtaposes the photographic idylls with poetic texts that impart a sense of the kinds of abrupt changes that must have occurred in her life when she fled socialist Romania. Internalized images are contrasted with photographic ones, adding the colors of childhood and imagination to the gray zones—the blood of a slaughtered pig, the colors of gummy bears, the stubborn fringe of a rug, or burned mother's milk.


"The mountains belong to her. She bought them from the sky, stood in line for many years and finally paid for them with her childhood dreams."

"She sweeps the rug. She's sweeping it for her mother. She sweeps the sorrows away and her father back and the fringes straight. She sweeps them from right to west and becomes their ally against the big people as it's their footsteps that make the fringes go all crooked and stick together and then nothing is as it was before."

"When she's big, she'll be a grandmother and she'll travel to Germany as there's no death there. For now, though, she's still small and the water hurts and the drain has eyes and the boiler's wheezing. There's no air in the bathroom and in her chest, no space, and between her temples the throbbing trembles. Soon though, soon she'll be big."
Loredana Nemes – beautiful
Photographs and texts 2002 – 2013
German | English | Romanian
with translations by Donal McLaughlin
and Alexandru Sahighian
Hardcover in half linen, 136 pages
24,5 x 27 cm | 81 photographs | 16 texts
Hatje Cantz Verlag, Berlin
ISBN 978-3-7757-3653-4
Original store price 47,00 Euro.
Remaining copies only reduced as indicated below.
Price incl. packing and shipping.